Description
This affordable and very flexible system has found its way into many applications resulting in a full complement of detectors, accessories, and options that include remote indicator alarms, printers, relay outputs, weather-proof enclosures, Ethernet networking software, industrial cameras, and more.
Sites requiring centralization of their data can link multiple 375 systems together via Ethernet and view them using a common web browser with the purchase of Ludlum's Webpage & Service Software. This program collects all data in real time, logs data, and annuciates any alarms. The system can also send intelligent email alerts to responsible personnel and capture a picture of whatever triggered an alarm anywhere optional Ethernet cameras are employed.
Here is a list of some popular, pre-configured systems utilizing the Model 375 controller. Contact Ludlum to receive a quote for a system best meeting all your needs.
Features
Affordable Digital Controller
Adapts to a Wide Variety of Detectors
Programmable Alarms and Units of Measure
Networkable
Battery Backup
Specifications
INDICATED USE: area monitoring
SUGGESTED DETECTORS: GM, proportional, scintillation, neutron
DISPLAY: four-digit LED display with 2 cm (0.8 in.) digits
DISPLAY RANGE: 000.0-9999
DISPLAY UNITS: can be made to display in μR/hr, mR/hr, R/hr, μSv/h, mSv/h, Sv/h, μrem/hr, mrem/hr, rem/hr, cpm, cps, and others
AUDIO: Intensity can vary from approximately 68 dB to 100 dB through operation of the external rotary baffle and the internal voltage connection. Frequency is approximately 3 kHz
LINEARITY: reading within 10% of true value
RESPONSE: typically three seconds from 10% to 90% of final reading
STATUS: green light, instrument functioning properly
ALARMS:

Low Alarm: yellow light, 1 beep/second audible, selectable range: 0 to 9999
High Alarm: red light, 4 beeps/second audible, selectable range: 0 to 9999
Detector Fail: red light, constant audible tone > 68 dB at 61 cm (2 ft)
Low Bat: yellow light, indicates less than two hours of battery life remaining

HIGH VOLTAGE: adjustable from 450 to 2500 volts
THRESHOLD: adjustable from 2 to 100 mV
DEAD TIME: adjustable to compensate for dead time of detector and electronics (can be read on display)
OVERLOAD: senses detector saturation (indicated by display reading "-OL-")
OVERRANGE: indicates radiation field being measured has exceeded counting range of instrument (indicated by display reading "– – – –")
DATA OUTPUT: nine-pin connector providing five-decade logarithmic output, RS-232 output, signal ground connection, FAIL, and ALARM signals (current sink), and direct connection to battery and ground
CALIBRATION CONTROLS: accessible from front of instrument (protective cover provided)
POWER: 9 Vdc wall-mount adapter, handles any mains voltage in the world, supplied with four sets of prongs for almost any style wall receptacle
BATTERY LIFE: typically 48 hours in non-alarm condition; 12 hours in alarm condition
BATTERY CHARGER: battery is continuously trickle-charged when instrument is connected to line power and turned on
CONSTRUCTION: wall mount aluminum housing with ivory powder coat
SIZE: 18.7 x 24.6 x 6.4 cm (7.4 x 9.7 x 2.5 in.) (H x W x D)
WEIGHT: 2.1 kg (4.7 lb)
Etherney Connectivity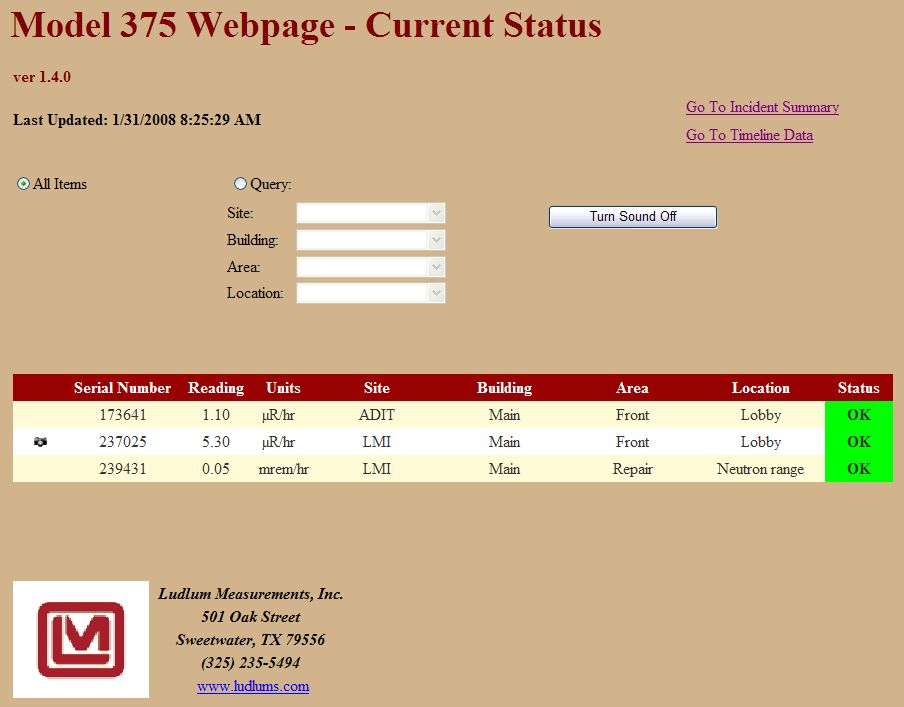 Model 375s equipped with the ethernet option can be connected to a radiation network that collects and displays radiation levels and alarm status in real time from up to 50 area monitors.  A standard webpage browser with appropriate authorization can view all data across the network and audibly annunciate any alarms.  The system can also be setup to send intelligent email alerts to responsible personnel and capture a picture of whatever triggered an alarm anywhere optional ethernet cameras are employed.