Description
The Ludlum 4525-Series of Radiation Portal Monitors (RPMs) represents state-of-the-art technology at detecting orphan radiation sources. Ludlum has sold over 800 of these types of systems throughout the world to scrap yards, recycling companies, landfills, and foundries.
The 4525 series detectors are ruggedized, large plastic scintillation systems that can be optimally arranged to monitor moving vehicles entering into the system. Each detector system can be configured with two to eight large detectors. Real-time data acquisition and analysis is performed directly at each detector system and then reported to a central PC for logging, reporting, and alarm notification. Up to four detector systems (lanes) can be networked together via Ethernet or wireless to the central PC where vehicles entering from either direction can be monitored in real time. Each detector system additionally includes a remote control/annunciator panel to support operator awareness, alarm acknowledgement, and if necessary, backup operation in the event the central PC is unavailable.Data from all the system sensors are acquired and checked by powerful, field-tested, and time-proven algorithms designed to check each load vigorously in a multi-dimensional, multi-layered manner before declaring any load as clean. Any abnormality is immediately alarmed and annunciated both locally and remotely. An optional camera system can capture the image of the offending vehicle. The image is included in the logged data for permanent record keeping. Alarms can also be configured to automatically directly notify shift supervisors by e-mail if desired. The system is designed for ease of use and can be customized to accommodate a wide variety of site and application specific criteria. Intuitive menus and controls combined with pre-defined automatic event handlers ensure each situation is handled properly and consistently.
Available Detector Configurations

Ludlum offers several different Radiation Gate Monitor Systems. Each 4525-Series model number suffix reflects the total cubic inches of scintillation material used by the combined system.
Model #

Number of
Detectors

Part Number

4

48-3908

2

48-3605

3

48-3606

4

48-3607

5

48-3608

6

48-3609
Gate Monitoring Software Package

Ludlum's System Computer comes equipped with a gate monitoring software program accommodating up to four separate 4525 configured systems (lanes) via a 10Base-T Ethernet connection or 802.11g wireless system. This monitoring software automatically collects and archives data from all available lanes, displays alarms, and generates reports. When equipped with optional cameras, the system can be configured to either automatically capture images of each vehicle passing through the system or only those causing an alarm, and include it in the database.
The gate monitoring software contains three major components:
SUPERVISOR: collects all data, saves it in databases, and contains all parameter settings. It presents alarms and provides all control over the system.ECHO: is used for remote monitoring and shows exactly what the Supervisor is doing, but does not allow any control functions. This program performs all alerting and reporting functions, and up to 10 ECHO stations can be configured per each supervisor computer. Each ECHO station can monitor an unlimited number of supervisor computers.
DATA VIEWER: queries the databases (background, alarms, and event log), filtering records based on date, alarm, and lane number. The Data Viewer can also re-print an alarm report, print summary reports for user-defined date and time ranges, and create new databases based on the current search queries.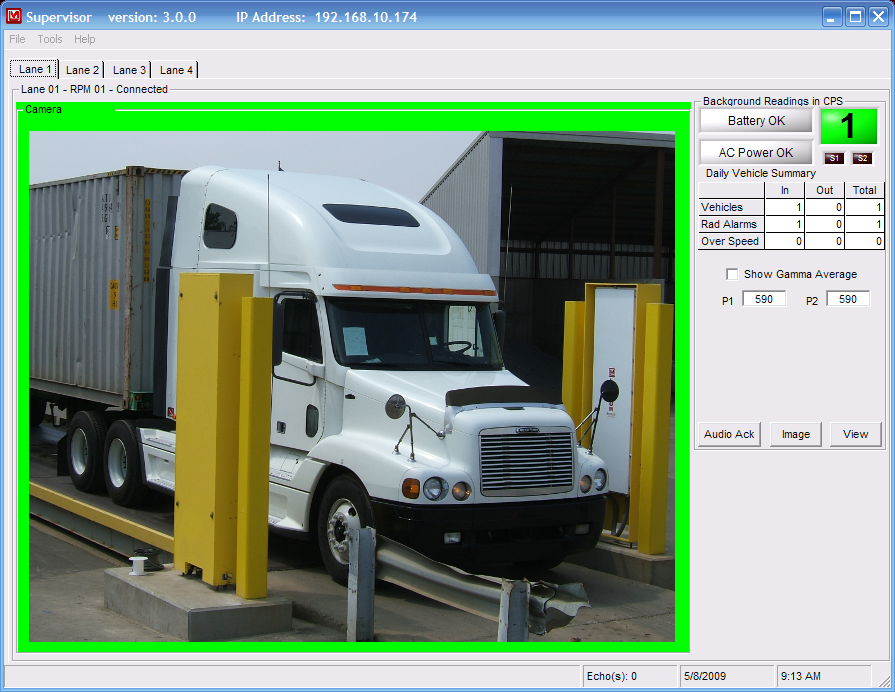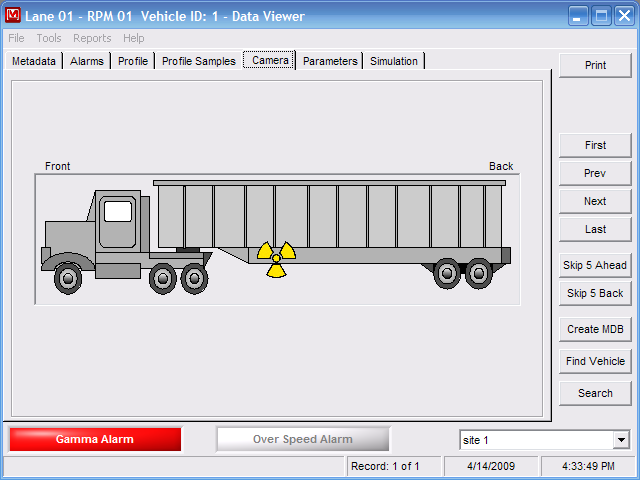 Accessories Included With Each System